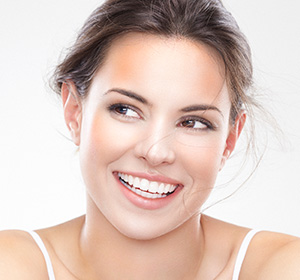 Have you always wanted a perfect smile, like the ones celebrities have, but thought those smiles were only for the rich and famous?
Cosmetic dentist Dr. Bauer at Carrington Dental Care is ready to give you the perfect smile of your dreams. We offer a variety of cosmetic dentistry treatments. Dr. Bauer is well-trained to provide you with the cosmetic dentistry treatments that will help you achieve your perfect smile!
Cosmetic Dentistry Treatments
TRADITIONAL ORTHODONTICS | We offer traditional braces to our patients who need to straighten their teeth. Traditional braces are often the best choice for younger children, or for people who have very crooked teeth or bad bites. They are generally the most inexpensive orthodontic procedure as well, so you can breathe a sigh of relief when considering costs.
SAME-DAY PORCELAIN CROWNS | Having teeth "capped" with dental crowns is an excellent cosmetic option if you have teeth that are damaged, broken, chipped, misshapen, too small, or experiencing other dental issues. Here at Carrington Dental Care, we offer you both Planmeca 3D imaging technology and CEREC® crown-in-a-day dental technology. This means that we can create a lovely, custom-made dental crown for you while you wait in our comfortable office. No need to schedule multiple appointments!
TEETH WHITENING | For a perfectly white smile, nothing beats professional whitening treatment. With ZOOM!® chairside teeth whitening, our cosmetic dentistry professionals can give you sparkling white teeth right here in our office. You can have your teeth go from dull to dazzling in as little as one appointment!
We also offer Opalescence® take-home gel trays to use so you can provide yourself with a shiny, brighter smile according to your own schedule. You can have that whiter smile in no time at all in the comfort of your own home!
For best results, we recommend that you combine both teeth whitening treatments. The ZOOM! treatment helps you get the teeth-whitening-party started, and the take home treatment keeps your teeth pearly-white, day-in and day-out. This combination will give you every reason to smile the whole day long!
Ready to get that brighter, more natural-looking smile? Call our fabulous cosmetic dentistry team at Carrington Dental Care today!